Check-in
When you should you
check-in ?
We ask you to arrive as early as 4 hours before the departure of your flight, regardless of your flight's take-off time.
All our flights are operated from Orly 4.
Check-in for all our flights at the airport closes 1h30 before the flight takes off.
Corsair desks
At Paris Orly: the Corsair desk is located at Orly 4 in door 42D.
For other destinations, please check the airport information boards.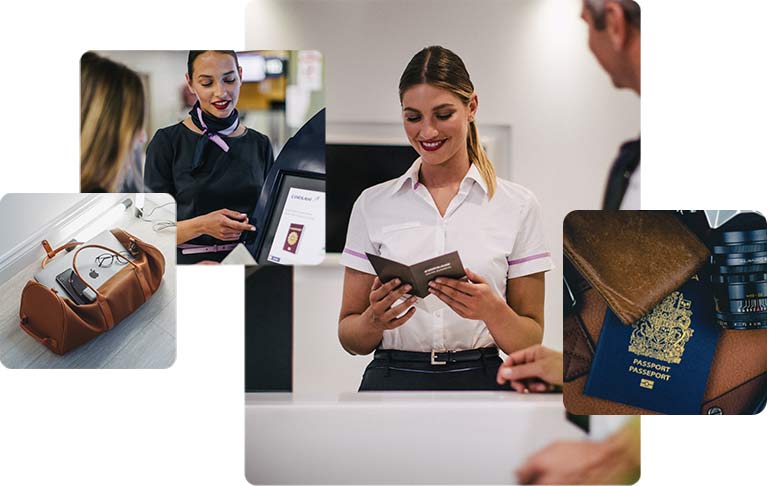 Attention
For all our destinations, one hour and a half before the departure of your flight (flights close 1h30 before departure) you must be in possession of your boarding pass and have checked your luggage.
After this time, you will no longer be accepted on board and you risk losing your ticket.
In order to make an on-time departure, boarding starts 1 hour before the departure time. After check-in, we invite passengers to go directly to the boarding lounge. If the passenger is not present at the boarding gate 30 minutes before the departure time: he will not be accepted.
How to
check-in ?
In order to obtain their boarding pass, each passenger must present an identifier (identity card or passport used at the time of booking) as well as any other document required by customs, administrative and health regulations to enter and leave the territory. For more information, we invite you to consult our Formalities section.
Luggage must be prepared in accordance with the regulations in force (Learn more about luggage transportation) and must :
Be individually labeled inside and outside (your name, surname, phone number and permanent address must be clearly indicated).
Be locked
At the airport
At the desk (counter)
Register at a registration desk. To know the numbers of the check-in counters, please refer to the information provided on the Paris Airport information boards.
Register at the Self-Service Kiosks (BLS)!
At the airport, save time by checking in directly at the Self-Service Kiosks.
With this new service, check in, edit your baggage tags and boarding pass in a few minutes. Then go to our drop-off counter.
If you have already checked in online, you will only be able to edit your hold baggage tags and then go directly to our drop-off counter.
These kiosks are available throughout Terminal 4 and near the Corsair check-in area.  They are accessible from 12 hours before the departure of your flight to 1 hour 15 minutes before departure for all destinations, except for Africa, where the deadline is 1 hour 45 minutes before departure.
Please note: all the Self-Service Kiosks at Orly 4 Terminal are accessible to this service. Don't spend any more time queuing: check in immediately at any available terminal!
Note: Passengers traveling with a baby, children not accompanied by an adult (UM) or people who have requested airport assistance are not eligible for this service. 
Online check-in
Corsair offers you the possibility of checking in on the Corsair website or from your cell phone, as early as 72 hours before the departure of your flight.
Clich here to learn more about online check-in.
Note: Passengers traveling with an infant, children unaccompanied by an adult of full age (UM) or persons who have requested airport assistance are not eligible for this service.
Attention
In order to be able to go through customs and police formalities with complete peace of mind, passengers who have checked in early must present themselves to the police filters at least 1 hour before the departure time of their flight.
How to transport your stroller?
At Orly airport, strollers are to be dropped off at check-in and not until boarding. Orly airport provides strollers for boarding and flights.
For a smooth check-in
During check-in and until boarding, special attention will be given to unaccompanied children and persons with reduced mobility.
To ensure that "big departures" no longer rhymes with "rush hour", reception agents will help you check in, board and disembark with complete peace of mind.
PARAFE: Cross the borders in seconds
The new PARAFE (Automated Rapid Border Crossing) program simplifies your trip.
In fact, it allows you to cross borders using automated passport control. A simple registration on the national file, and you will be registered for all your travels. Then, when you leave or arrive at Orly 4, you simply insert your passport into the terminal and then place your finger on the biometric sensor to enter or leave the European area.
The PARAFE program is free of charge and based on voluntary work. Its aim is to facilitate your passage but also to reduce any delays.
More informations on: https://www.service-public.frAll passengers with a confirmed reservation and a valid e-ticket can go directly to the check-in area to collect their boarding pass and check in their baggage.
Contact us
 

From France and french overseas departments

For any question, you can contact our Customer Service open daily from 07:00am to 11:00pm at

 

From abroad