Discover Mauritius
from

Meilleur prix
Time difference

2 hours ahead of France in summer.
Currency

Roupie Mauricienne
Languages

English, French
Local temperature

Between 6°C and 25°C
Population

443 000 inhabitants
Formalities
A valid passport 
A return ticket is mandatory
Information on customs and security formalities is provided as a guide.
Under no circumstances may Corsair be held responsible if your official documentation is not in order.
To prepare your trip, we suggest you contact the island's tourist office.
MTPA Mauritius Tourist Office in France
c/o Interface Tourism
16 rue Ballu
75009 Paris, France
phone number : +33 1 53 25 12 07
ilemaurice@interfacetourism.com
Helpful tips
There are no obligatory vaccinations.
On site
Shopping hours
Shops are open between 08:00 and 17:00 from Monday to Friday
Transport
To get around the country, there are plenty of bus companies serving the length and breadth of Mauritius: a cost-effective way of getting around. You can also get around by car, but take care with local driving habits and some "challenging" roads.
Security
Watch out for some insect bites, which can be dangerous. Do not hesitate to consult a local specialist. Also be wary of eating certain fish; some can be contaminated by toxins, check with the locals.  More information available on http://www.diplomatie.gouv.fr
Services
Banks and administrative services are open between 08:00 and 16:00 from Monday to Friday.
Holidays and celebrations
January/February: The Spring Festival and Chinese New Year.
March: National holiday.
August: Hindu festivals are held in August on Mauritius.
15 of Auguste "Fete de l Assomption de la Vierge Marie"  
November: Divali, the festival of light and renewal.
The essentials
Next door to Reunion, Mauritius is a destination packed with charm.
Its main asset lies in the beauty of its fine sandy beaches descending into turquoise waters warm all year round. A destination highly prized by families or couples seeking sun and a relaxed lifestyle, Mauritius also offers great variety in terms of accommodation. From luxury hotels to an authentic guest room with a local, every traveler can find ideal accommodation conditions, and discover a culture rich in traditions.
Among the essential sights, we can recommend Grand Baie, the village of Triolet, Chamarel , Chinatown, Flacq, Souillac, as well as "Jardin de Pamplemousse" gardens and the Curepipe Botanical Garden.
Gastronomy
It is the great diversity and originality of some dishes that are the force behind this relatively little-known cuisine. Indian and Creole cooking is based on spicy sauces, marinated for hours.
You can also try out very fine fruits on Mauritius. The melons, watermelons, mandarins, green lemons, mangoes, lychees, papayas, guavas, carambolas, sugar apples (green skinned fruit with big oval seeds and delicious flesh), custard apples, pomegranates (or passion fruit), Cytherea fruit, tamarinds or red coconuts are quite simply exceptional.
Culture
Symbolic and spectacular celebrations
Spring Festival and Chinese New Year take place in January and February. These celebrations are accompanied by costume parades and dragon dances in the streets. Tamil festivals are also held during this period. Hindu festivals are celebrated in August in Mauritius. The faithful make statuettes of deities which they carry in procession to the rivers or to the seaside, to immerse them before sunset.
Music
Characteristic of typical Mauritian folklore, the Sega is both a dance and music of African origin, imported by slaves. It is characterized by its frantic and sustained rhythm.
A mosaic of religions
Hinduism, Islam, Christianity and Buddhism cohabit without difficulty in the island. You can visit mosques (such as Al-Aqsa and La Jummah Mosque), churches and temples. Blessed Jacques-Désiré Laval is honored every year in September. On that day, Catholics and Mauritians of other faiths flock to the tomb of Father Laval, apostle of the blacks.
To go out
Recently built, the Caudan and Port Louis Waterfront is home to many restaurants, cafes, bars, movie theaters, duty free stores, craft stores. You will also find a casino.
The Divali
In November takes place the Divali, a celebration of light and renewal. The adepts have the custom to illuminate their houses and to purify themselves with a bath and offerings in order to obtain prosperity and abundance all year round.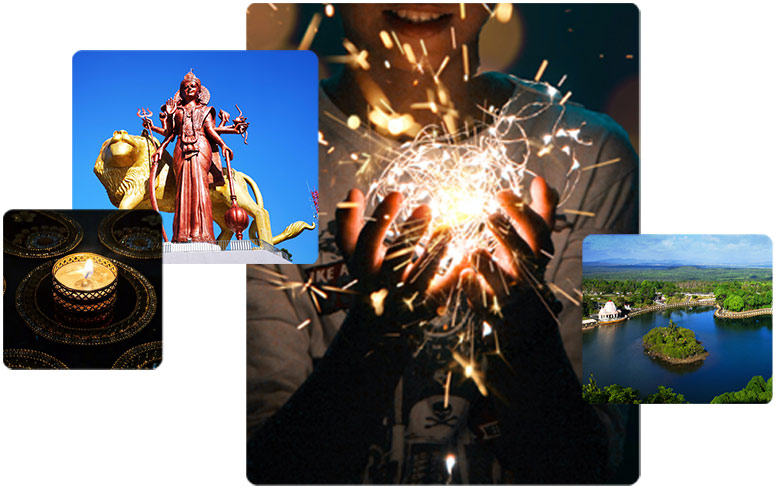 Climate
Mauritius enjoys a tropical climate, tempered by south-east trade winds.
The period from October to December is the most appreciated (27°C on average). July, August and September are ideal for fans of spring temperatures