The Premium class offers you the maximum convenience, from the check-in and throughout your flight. From reduced waiting times, enlarged seats premium, dining through to entertainment – everything is done to help you relax and wholly enjoy your trip.
Your privileges begin at the
airport
A fast-track check-in thanks to a dedicated line
An increased baggage allowance in the hold and cabin
A no-queue access no. 1 at Orly, Fort-de-France and Pointe-à-Pitre, which ensures 
priority passage through the border and security controls, upon departure and 
arrival.
Important : access no.1 allows you to leave the terminal faster when you arrive at Orly 4. Thanks to this service, you can use the Access Gate no.1 directly to quickly pass through the police filters.
Priority boarding onto the aircraft
Priority delivery of the baggage upon the arrival of your flight
The service continues
on-board
A USB port (which only allows for devices to be charged) and a power socket.
Blankets and pillows
A comfort bag  that includes ear plugs, masks, socks, toothbrush and toothpaste.
 A seat that suits you best – be it aisle or window – a choice that you will have made 
when booking your ticket. You can reserve your seat directly online by simply 
ticking that specific service.
 
Seating in Premium class : 
Our Premium  cabin is configured with 12 seats on Airbus. 
Our seats are wide, ergonomic and comfortable, providing you with the well-being of your dreams. Embellished with a footrest, they recline to 126° and there is 117 cm of available space.
Special attention has been paid to the quality of the lighting environment  in the cabin. The aircrafts are equipped with mood lighting, an innovative  lighting system that enables different lighting ambiances to be set, simulating dusk  or sunrise in accordance with the different stages of the flight.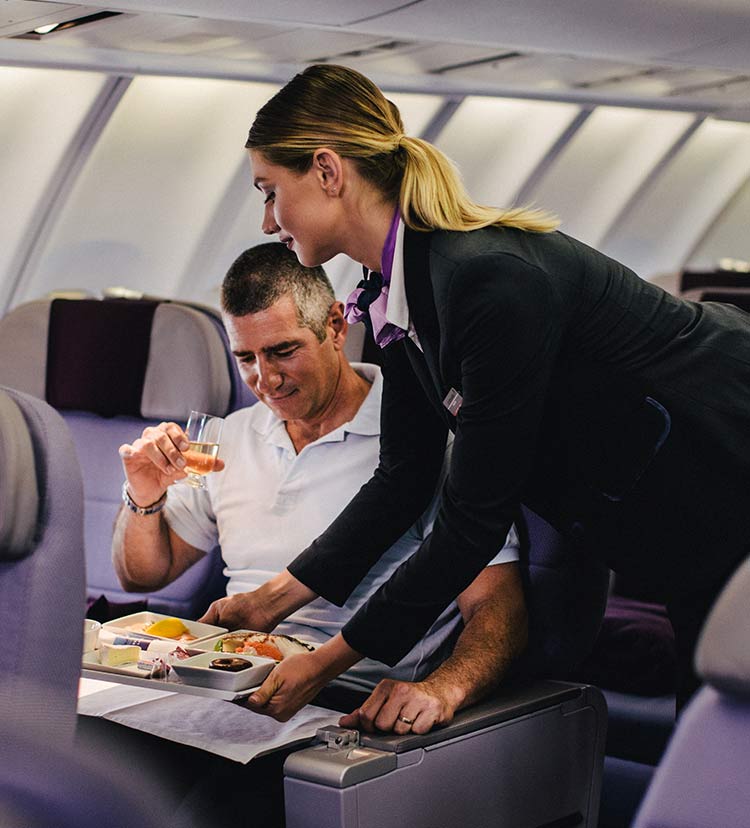 CABINS in the future
A new approach
of comfort
With the arrival of the A330-NEO, Corsair is upgrading its cabins and its offer for more comfort, more space, more entertainment, and more of everything.
Read more
Delicious and refined
dining
You can choose your meal included in your ticket or choose a special meal during or after your booking, until 48h prior departure.
Corsair offers you champagne at your discretion during mealtime, and as an aperitive.
You have a choice of dishes together with quality wines.
Digestive are available as a paying offer.
At the end of the meal, coffee or tea is offered.
The bar area remains available for the duration of the flight
A wide selection of
entertainment
The individual screens have excellent viewing quality that is optimised.
On the touchscreen, you have access to a wide selection of movies, shows, games and to many articles from the daily national newspapers, including Le Figaro, Libération, L'Equipe, as well as several television newscasts that are updated daily.
The individual 25-cm touchscreens are intuitive and user-friendly, with a new exclusive entertainment system that consists of french and international films, games, as well as documentaries and numerous innovative services.
Various music channels, radio partners and albums are available.
Noise-cancelling headphones are provided with the screen, providing unbeatable quality.