Can I travel with a rodent?
Réponse
If your pet is a small rodent (hamster, dwarf rabbit, guinea pig, white mouse, domestic rat), it can travel in the cabin in a suitable cage that is locked for the duration of the flight. It must be at least 2 months old and microchipped. 

The animal remains under your full responsibility, you must report its presence to the Chief of Cabin when you board and present it again when you arrive at your destination.

Please note : the rodent must be placed in a hard plastic cage with an access hatch on the upper part not accessible by the animal even when resting on its hind legs.
The dimensions of the container must not exceed those of a carry-on bag (Width + length + height = 115 cm maximum and length maximum 56 cm / Width maximum 45 cm / Depth maximum 20 cm).
Phytosanitary requirements:
Before departure, you must find out about the phytosanitary acceptance conditions of the destination and transit country.
Rodents are deemed prolific species and pests, and so are refused entry in many countries.
At check-in, you must present the following documents:
Up-to-date and valid vaccination certificate.
A good health certificate from within 5 days of the travel (for Abidjan, the rabies and health certificates must be dated at least 3 days before departure).
If your stay is for more than 15 days, this certificate must be issued by the veterinary authorities of the destination country.
International health certificate for pet transit. This certificate is issued by the health authorities, and declares that your pet has been examined and recognised free of any clinical sign of disease.
Special case of ferrets - You must also present:
Proof that the ferret comes from a farm or pet shop.
The health record, showing the identification mark or electronic identification chip.
A certificate stating that the animal's anal glands have been removed.
Animals born after July 2004 will not be allowed on-board (this operation was prohibited in Europe at that time)
Please Note : Ferrets must be vaccinated against canine distemper. If travelling in the cabin, they must be carried in a cylindrical container specially designed for this species and available from pet shops.
Baggage allowance:
If you want to transport two rodents, you can put them in the same cage in the cabin if the sum of their weights does not exceed 7 kg, and if the cage remains large enough so that they have enough living space. If the cabin excess is exceeded, your rodent will have to travel in the hold.

Your animal is not included in your cabin luggage allowance. You must pay a fee for it:
Eur 50 per leg between Paris and Fort-de-France, Pointe-à-Pitre, Mayotte or Reunion island 

Eur 100

 per leg between Paris and Montreal or Abidjan
If your rodent travels in the hold (more than 7 kg, including cage), it is not included in your hold baggage allowance, so you will have to pay a supplement of
Eur 100  per leg between Paris and Fort-de-France, Pointe-à-Pitre, Mayotte or Reunion island 
Eur 200 per leg between Paris and Montreal or Abidjan.

Animals in hold are forbidden between Paris and San-Lucia, or San-Marteen or Saint-Barthélemy.
To be able to travel with your pet on board one of our aircraft, you must make a booking with our Customer Service open every day from 07:00 am to 11:00pm at least 72 h before departure  :


If you are abroad, please dial (same opening hours than Paris time) :

Conditions of carriage:
What cages are approved and accepted by Corsair?
Cages approved and accepted by Corsair :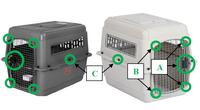 (A)The door must have a central locking system that locks the two locking points
simultaneously at the top and bottom of the door.
(B)The door hinges must be at least 1.6 cm horizontal ledge above and below
the door.
(C)The two parts of the hull required to be maintained by bolts. Any other means
of fastening side is strictly prohibited.
The animal must be able to stand, head fully erect, without touching the top of
the box. It must also be able to turn around and lie down comfortably.

Non-compliant cages and not accepted by Corsair :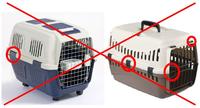 Corsair would like to inform you that since 14 January 2008, we no longer sell cages at our departure points.
You can carry up to two pets in the same cage, as long as they are of similar weight and breed, and used to living together. The maximum weight of the each animal must not exceed 14kg. You will have to pay the allowance fee twice, which is 2x100€ or 2x 200€ according to your destination.
Above this weight, your pets will need to travel by cargo or separately.